digital art L.A.

DFFLA and LACDA Present
DigitalArt.LA
International New Media Expo
August 13-20, 2009
All Gallery Exhibits Open August 13-15 12-5 (Free)
LACDA Reception Thursday August 13, 7-9 pm (Free)
Downtown Art Walk Thursday August 13, 12-9 (Free)
Rowan Gallery Reception Saturday August 15, 7-9pm (Free)
LACDA Video and Expermental Shorts Saturday August 15, 5pm (DFFLA Ticket)
Devonia Retrospective Screening Sunday August 16 7:30pm (DFFLA Ticket)
'Sustainable L.A.' and Rex Bruce at 7+Fig Thursday August 20 10am-7pm (Free)


Come Downtown and view new media exhibits by select area galleries, theaters, and venues near L.A. Center for Digital Art (LACDA) in Downtown's Gallery Row. Many venues will host screenings and exhibits for major out-of-area institutions. The Downtown Film Festival Los Angeles and Los Angeles Center for Digital Art will be hosting an extraordinary new media exhibit at the Rowan Lofts Gallery including work from top artists and institutions. As well, LACDA is featuring a Juried Exhibit curated by Rita Gonzalez, LACMA.s

Participants include:
UCR | California Museum of Photography · Laznia Centre for Contemporary Art (Danzig, Poland) · Davis Museum (Barcelona) · Downtown Film Festival - Los Angeles · Orange County Center for Contemporary Art · Downtown Art Walk Los Angeles · Grammy Museum · Rowan Gallery · Julie Rico Gallery · Niche.LA Video Art · Deborah Martin Gallery · Phyllis Stein Gallery · Pharmaka Gallery · Todd Browning Gallery · El Nopal Press Gallery · Compactspace · Phyllis Stein Art · Edgar Varela Fine Arts · Downtown Annex Gallery · 7th+Fig Art Space · Artillery Magazine · Coagula Art Journal · Citizen L.A. · THE Magazine · AbsoluteArts.com · Rita Gonzalez, LACMA

LACDA Juried Exhibit
Artists selected by Rita Gonzalez,
Curator for Contemporary Art, L.A. County Museum of Art:
Joao Werner
Tom Feucht
Campbell Laird
Kendall McMinimy
Dameon Lester
Elke Brand
Martin Amorous
Diane Fox
Martina Shenal
Michelle Hagewood
Celia Marais
Samvel Saghatelian
Allan Barnes
Artie Vierkant
John Chang
John Klof
Manuel Vazquez
Christi Nielsen
Joe Merrell
Yoshie Sakai
Vonda Yarberry
Ger Ger
Kiyomitsu Saito
Michael Henderson
Annabel Manning
Michael Lasater
Darren Floyd
Barbara Horiuchi
Trish Stone
Pat O'Neill
Scott Mahoy
Kristy H.A. Kang
Rosemary Comella
Andreas Kratky
Carroll Parrot Blue
Marsha Kinder
James Tobias
Juri Hwang
Matthew Swarts
Santiago Echeverry
Felicity Rich
Vince Michael
Featured Net.Art
http://lacda.com/netart.html
Featured LACDA Artists:
Anneliese Vareldiev
Mark Mothersbaugh
Matteo
Tiffany Trenda
David DiMichelle
John Lucas
Gwen Samuels
Dusty Herbig
Piotr Chizinski
Morgan Jones
Elliot Anderson
Sterling B. Ely
inter.sect
Ramiro Valle
David A. Knudsen
Randy Polumbo

DigitalArt.LA Highlights:

Through the gracious efforts of the Steps Gallery in London, the video installation "Last Riot" by the Russian collective "AES+F" that was featured at the Venice Biennale will be exhibited for DigitalArt.LA August 13-15. This is a fantastic work of the highest caliber, we are very excited that we have reached this level of collaboration.
http://DigitalArt.LA



AES+F "Last Riot"
LACDA arranged for Elliot Anderson's series "Average Landscapes" that was exhibited at the M.H. de Young Museum of Art to be featured at Pharmaka Gallery as part of DigitalArt.LA. Reception August 13.
http://arts.ucsc.edu/faculty/eanderson/
LACDA artist Tiffany Trenda performed her spellbinding work at L.A. County Museum of Art just a few months back. She has been exhibiting extensively; her career is really taking off! This incredible work will be performed at DigitalArt.LA., August 13-15.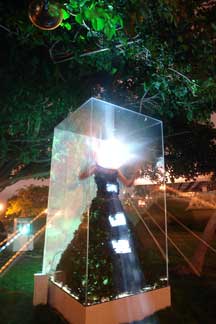 Tiffany Trenda at LACMA
An estimated 3,000 people attended the July Downtown Artwalk, the draw of the downtown gallery scene has become mind blowing since our beginnings just five years ago. Story in L.A. Times:
http://www.latimes.com/la-ca-artwalk8-2009feb08,0,6208307.story
Rex Bruce will be exhibiting his work examining climate change in a solo exhibit at the huge 7+FIG Art Space in conjunction with "Sustainable L.A." Events and reception on Thursday, Aug. 20th. Recently two from this series were sold to the set decorator from "Californication" to appear in Season 3, and one was purchased by Reggie Wollery of the California Museum of Photography.
http://dffla.com/muse-greenster.php
DFFLA and L.A. Center for Digital Art arranged a retrospective screening of DEVO videos at the Grammy Museum beginning with the 1970's 16mm "Mongoloid" directed by artist Bruce Connors and ending with "Don't Shoot (I'm a Man)" their latest state of the art digital video. DEVO bass and keyboardist Gerald Casale who directed most all of their videos will be making an appearance and will discuss how his work as a visual artist influenced his video creations. The screening and reception will be on August 16, 7:30pm. (Requires ticket).
http://downtownla.bside.com/2009/films/devonia_downtownla2009
LACDA Selected Videos and Experimental Shorts (including competition winners) screening at A.T.&T. Theatre Saturday, August 14, 5pm. (Requires ticket).
http://downtownla.bside.com/2009/films/digitalartsshorts_downtownla2009
"LA ARCHITECTURE: In the Abstract" is an array of painterly images on large canvases by David A. Knudsen featureing some of the city's most striking buildings, many from Knudsen's renowned "Reflections on Architecture" series, where natural abstractions fool the eye. At the Rowan Building, Suite 104, in the hospitality suite of the Downtown Film Festival Los Angeles.
Colombian artist Ramiro Valle presents "Geometric Romanticism". An exciting exhibition of evocative digital paintings dealing with spirituality and identity at the Rowan Building Gallery Lounge, 5th and Spring, second floor. Guides at the Spring Street entrance will direct you to the show.
LACDA and DFFLA will be featuring the inter.sect Art Collective at the Rowan. Directed by founder Christi Nielsen, inter.sect is a group of artists who use new media platforms to explore digital exhibition spaces outside the traditional gallery model. On exhibit will be their recent project involving visual translations of text via mobile phones that was shown at the Dallas Museum of Art, the Dallas Contemporary, and at Pocket Films at the George Pompidou Centre in Paris.
http://www.intersectartcollective.com
Sponsored by: