UNBOUND

November 10-December 3, 2005
Opening Reception: Thursday November 10, 7-9pm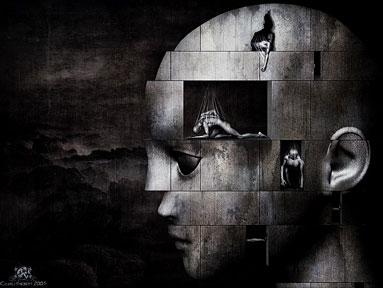 © 2005 Charlie Siebert

Beaux Sedwick
Ela Boyd
Launa Bacon
Charlie Siebert

UNBOUND features four women artists from Los Angeles working with
video and digital imaging. These artists explore the shadowy side of
the female psyche in relationship to woman's bodies and minds searching
to transcend a largely male dominated culture and the limitations of
traditional gender roles.
Charli Siebert is a 23 year old digital artist from Huntington Beach,
CA. She is a self taught artist and all of her work is created
digitally using "out of the box" imaging software. Many of the themes
seen in Charli's work can be described as dark or provocative, with
soft undertones of vulnerability and passion. When reviewed by Art
Forum's Matthew Wilder he described her work aptly as "the gently
dissolving images of the flabbergasting Charli Siebert…Siebert's
independence from art-school cant is gratifying in itself, but her
frosted, distressed, tactile-but-ethereal images are the real
thing—Goth and sci-fi kitsch ossified into beaux-arts stateliness. Her
porny, morbid figures hover in a state of being pitched somewhere
between photorealism and PhotoShop artifice, as if a family of
Joel-Peter Witkin ghouls had invented their own video game to live in…"

Launa Bacon creates work has migrated into installation and
interactivity, growing in scope as it expands in consideration. Her
work alights at the subtle tension between beauty and revulsion that
can be found in the human condition, and it dwells in the in-between
states of consciousness and unconscious/reality vs. non-reality. Much
of her work combines a very a-textural surface with very rough content,
bringing back the coexistence of aesthetic value (beauty) and meaning
(content). Her work is a consideration of personal emotions that
explores pleasures, ironies and natures of existence that have been
culturally naturalized.

Ela Boyd explores transformative moments where she feels the veil that
exists between herself and "other" has been lifted. Her work indicates
grey areas in the cognitive ability to interpret time and space as a
means to transcend cultural limitations including those specific to
women. The work contains McCarthy era images from commerce and science,
with which the artist indicates the absurdity of the domestic "norms"
in which gender roles were rooted historically as absolutes.

Beaux Sedwick works with digitally altered video and still imagery.
Each piece is a self portrait where the artist performs within the work
in a manner that reifies deep feelings, that of being subjugated by the
rigidities and limitations of a culture that inflicts a form of subtle
violence on the psyche as well as the physical body of women.