Silverlake Film Festival Exhibits at LACDA
Screenings and Reception Thursday May 10, 7-9p
Los Angeles Center for Digital Art
in conjunction with the
Silver Lake Film Festival
"Fringe Fest" presents:
"THINK AGAIN"
outdoor public projection
and
"MIRACLES IN REVERSE"
interactive video installation

THINK AGAIN is pleased to announce The NAFTA Effect, a public projection project that challenges anti-immigrant rhetoric and mistreatment of migrant labor. The NAFTA Effect is presented in conjunction with the Silver Lake Film Festival and is supported by the Los Angeles Center for Digital Art. THINK AGAIN is a two person collaboration between David John Attyah and S.A. Bachman.
THINK AGAIN's mobile projection will be on view after dark in downtown Los Angeles on May 10 during the Silver Lake Film Festival and the Downtown Los Angeles Art Walk. Talking back to the advertising-dominated landscape of the city, this project acknowledges the contribution and participation of immigrant laborers in the life of Los Angeles. On the level of policy, The NAFTA Effect highlights how international treaties like NAFTA, in concert with national anti-immigration efforts, reshape the ways that families live and work on both sides of the border. The project addresses current debates surrounding H.R.4437, challenges the proposed 700-mile border fence, and criticizes the criminalization of undocumented workers.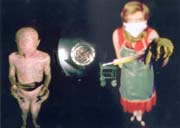 MIRACLES IN REVERSE, an ambitious challenge to classic cinematic technique, is an interactive DVD-ROM written, directed, and produced by New York artist Julia Heyward. This interactive feature invites single players to navigate a labyrinthine, Blair-Witch style tale by "scratching" hot spots in the film with a mouse, much the way D.J.'s scratch vinyl records to alter their sound. "Dizzyingly provocative, the film works like memory... It''s a dark, harrowing piece, and the technology works in its favor." Cate McQuaid/ Boston Globe
.
This site and its entire contents © 2006-2007 Los Angeles Center For Digital Art
All Rights Reserved.
Works of individual artists remain the intellectual property and are copyrighted by their respective authors. No unauthorized reproduction, all rights reserved.