Mary Bates Neubauer
August 9-September 1, 2007
Reception Thursday August 9, 7-9pm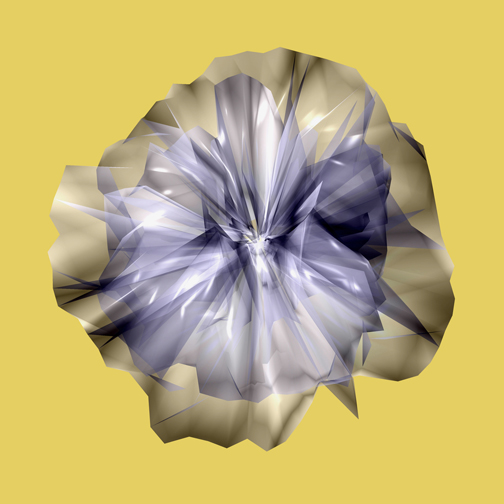 Mary Bates Neubauer
"Airport Decibal Levels"
Mary Neubauer's current work uses visual information obtained through digital processes to create and record 3D data. Illuminated, processed photograms, laser-scanned images, animations, and rapid prototypes are combined with more traditional casting and replication techniques to address contemporary science and its information-gathering methods. The work examines the way collectible materials are archived, and data is acquired, valued, and presented. It raises questions about how scientific and technical findings are interpreted and what effect this has upon our understanding of the nature of empirical evidence.
The surfaces and translucency of the sculptural and virtual artworks give them properties of inner life and animation despite their digitally archived nature, pointing out qualities of inherent spirituality, tactile beauty, and luminosity. While the work retains the touch of the artists' hand, it also reveals the artifacts of the digital processes through which it has been taken, such as layering and rasterization.
Recent research into the visual transcription of numerical data streams involves collecting historical and near-real-time statistics from the various instruments which are constantly recording details of our surroundings, such as climate, solar activity, water levels, traffic flow, energy expenditure, and population flux. Incoming information is translated in several steps, from columns of numbers to 3D visual patterns. Captured and interpreted through video displays as evolving animations, this streaming data is intended to keep the viewer informed with a lively, ongoing sense of the immediate activity and functions of the world. Visualizations of larger historical cycles of events are captured through 3D models which are rapid prototyped. Through this work, viewers have access to many ways of seeing previously inaccessible information. The intent is to provide an easily readable way of understanding some of the living functions of our surroundings through incoming data, formerly only statistically decipherable. This type of inside information can give us a new view of the complexity of our natural and urban environment as a functioning entity with a hidden, and fascinating, life of its own.
Mary Bates Neubauer, BFA- Sculpture Colorado State University 1973, MFA- Sculpture Indiana University Bloomington, 1981.Bates Neubauer is a professor in the sculpture department at Arizona State University, where she runs the foundry program. She is also affiliated with ASU's Partnership for Research in Spatial Modeling She is represented by Bentley Gallery/ Projects in Phoenix, AZ and the William Havu Gallery in Denver. She was the recipient of a Ford Fellowship while at Indiana University and later won a Fulbright Fellowship for study in Cambridge, England. She has been a guest artist at the John Michael Kohler Center Arts/Industry program, Oxbow, the University of Minnesota, San Jose State University, Edinburgh School of Art, Scotland, the Falmouth School of Art in Cornwall, England, CAST, Ltd. in Dublin, Ireland, and other institutions. She has served in residencies at the Scottish Sculpture Workshop and the Anderson Ranch Arts Center in Aspen, Colorado. This summer, she has been an artist in residence at the American Academy in Rome. Her work recently won first prize at Ars Mathmatica, an international digital art competition. Bates Neubauer exhibits her sculpture and digital prints nationally and internationally and has completed several public commissions in the western states. Her work can be found in a number of private and public collections.
This site and its entire contents © 2006-2007 Los Angeles Center For Digital Art
All Rights Reserved.
Works of individual artists remain the intellectual property and are copyrighted by their respective authors. No unauthorized reproduction, all rights reserved.