Mark Mothersbaugh
"Beautiful Mutants"


November 6 - December 6, 2008
Reception: Thursday November 6, 7-9pm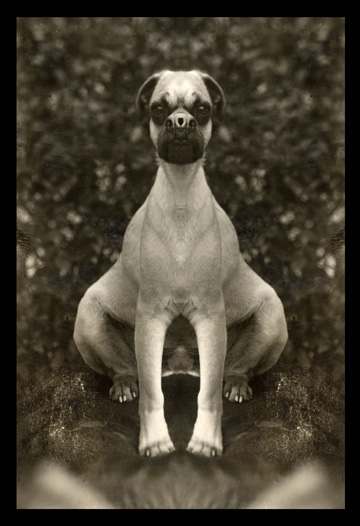 Bottom Heavy Pug © 2008 Mark Mothersbaugh
Rorschach's patterns, though abstract, suggest different visual images to each person who views them, and each interpretation is correct. Objects in this world are what they are to you because of how you happen to see them.
People are all hiding something. Many know exactly what that is, while most probably have no idea. Our asymmetrical exterior hides the true contents of each of us.
Aztec Indians built gigantic Kaleidoscopic pyramids that focused light from the sun through complex polished silver mirrors that reflected and flipped images of humans onto walls, giving rise to the celebration of a quest for true symmetry in their lives. In the 1800's people would flirt with these ideas and play parlor games with signatures, paper cuttings, etc. It was in the early 1900's that Rorschach and other psychiatrists developed theories and medical practices (inverted, as it turned out) based on their intuitive hunches regarding symmetry and the internal workings of man. Humans, great pretenders to bi-lateral symmetry, are in actuality, closer to potatoes in their lack of precise symmetry. A closer look reveals what is truly inside the people around us.
The photographs in this show were corrected in order to examine those who have walked the planet before us. Theoretically symmetrical in generalities, the subtle potato-like qualities of the human form allow the tenants of these bodies to hide within their asymmetric muddiness.
These corrected photographic images allow the true tenant of these human faces and figures to be 'flushed-out' and viewed without the disguise that we all so expertly hide behind.
For this project, old photographs were "corrected" using a combination of both antiquarian hand-crafting and modern computer technology. Other images have been enlarged to reveal details that might be over-looked at a smaller size.
These images were my personal favorites from over 3000 different tests created between 1999 and 2007 from original image sources that included personal photography, old photo booth strips, and daguerreotypes and ambrotypes obtained from a wide variety of sources including research facilities, antique shops located around the world, and online auction sites.
–Mark Mothersbaugh
Artist's Biography
Mark Mothersbaugh is the founding member and singer for the legendary band DEVO, and has been a successful composer for the movie industry for decades. Mark's love of art started early in his childhood, just after it was discovered that he was extremely nearsighted and legally blind.

His first correctional glasses offered Mark a new view of the world, inspiring his obsession with imagery and illustrations. His first works, which he began creating in the late 60's and into the 70's, consisted of many different mediums, including rubber stamp designs, ink illustrations, screen printing, decals, and mail art. He participated in local showings, and received recognition for his work in his home town of Akron, Ohio.
With DEVO, his most successful music project, Mark was able to showcase his artistic abilities on a larger scale, and to millions of people. Through their films, videos, costumes, LP covers, stage shows, and printed materials, Mark and DEVO forever altered commonly held preconceptions of how a rock band should function in popular culture.
During his downtime on early worldwide tours with DEVO, he began illustrating on postcards to send to his friends, which he still creates, and has been creating every day for over 30 years; A very obsessive habit which still yields anywhere from 1 to 25 new images per day. These cards were originally created as his personal diaries, and were never intended for public viewing. That all changed when Mark decided to share his postcard works in his critically acclaimed solo shows during the 80's & 90's, and then with his gallery tour in 2003 titled HOMEFRONT INVASION!. This marked the beginning of many solo shows to come.
Mark followed the 2003 tour with his BEAUTIFUL MUTANTS tour in 2004, which showcased his photographic symmetrical creations and 'corrected' imagery. The tour distributed many more of Mark's works throughout the world, and attracted more first-time gallery visitors & art buyers to his shows.
Mark's gallery tours since 2005 have featured new works from both his Postcard Diaries Prints and Beautiful Mutants photographs, giving each gallery a choice of either visual theme. The Beautiful Mutants exhibit at Los Angeles Center for Digital Art represents the most current showing of this series.
This site and its entire contents © 2004-2008 Los Angeles Center For Digital Art
All Rights Reserved.
Works of individual artists remain the intellectual property and are copyrighted by their respective authors. No unauthorized reproduction, all rights reserved.