Robert Mack
"The Bed Series"


December 11, 2008-January 3, 2009
Reception: Thursday December 11, 7-9pm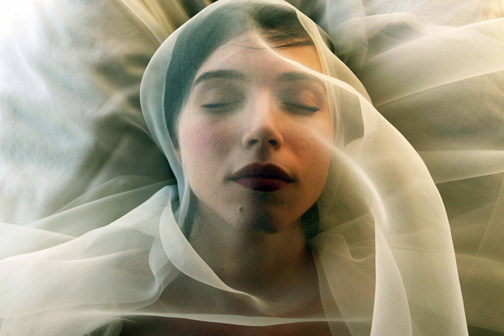 From the "Bed Series" © 2008 Robert Mack
"The Bed Series" is Robert Mack's solo exhibition debuting new work from his wrapped project consisting of photographic studies and experimental video. These explorations capture moody and performance / portraits of friends (artists, actors, and art scene denizens) at his home in the Hollywood Hills. The images are posed and taken in his bed; a sensual and personal environment that remains innocent and playful in the artists vision. Where Cristo wraps buildings, Robert wraps people. During these sessions, he wraps his subjects with sheer material, creating beautiful, intimate, even challenging images. He describes his videos as visual poems, or "haiku videos." The photographs and haiku videos capture a moment of experience; an instant when the ordinary, suddenly reveals its inner nature and asks us to take a second look.
About the artist:
While living in Baltimore, Robert produced THE PERKINS PROJECT: NOT GUILTY BY REASON OF INSANITY, both a photographic study and documentary film on the patients at Maryland's hospital for the criminally insane. His and Grace Zaccardi's intense, stark, black and white photographs, received a fifty-nine image, major nine-week exhibition at the Baltimore Museum of Art. Ten of the photographs are in the museum's permanent collection. A fine art book publication is being produced. As a filmmaker, Robert produced, directed, and developed films on such subjects as insanity, racism, faith, and death. His current film project, END OF THE ROAD, is a feature film in development based on the novel by John Barth.
His fine art work has been shown at various galleries in the United States and in Europe. In 2008: both his photography and haiku video installation were shown at Berlin's Spesshardt-Klein Gallery and at the Berlin Film Festival as an artist collaborator on the www.twentyninepalms.ca project. His "Haiku Someone Said" was a juried winner of LACDA's recent international digital competition, selected by Howard Fox, senior curator of contemporary art at LACMA. Both The Getty and MoMA senior curators of photography recently requested Robert's photography portfolio for review.
This site and its entire contents © 2004-2008 Los Angeles Center For Digital Art
All Rights Reserved.
Works of individual artists remain the intellectual property and are copyrighted by their respective authors. No unauthorized reproduction, all rights reserved.