Linda Alterwitz:
Discarded Dreams

March 10 -April 2, 2011

Reception Thursday March 10, 7-9pm
In conjunction with the Downtown Los Angeles Art Walk
Selected by Edward Robinson
Curator, Wallis Annenberg Photography Department at LACMA
Los Angeles County Museum of Art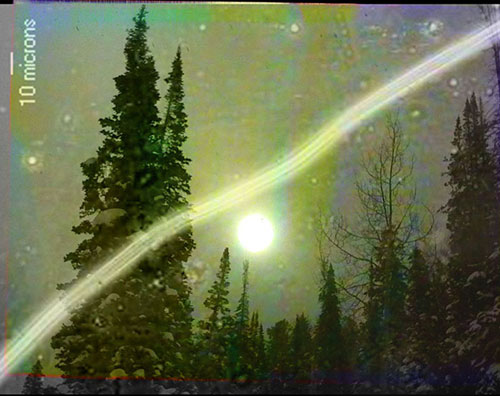 ©2011 Linda Alterwitz
Linda Alterwitz's philosophy addresses the constant challenge to keep a balance between the two sides of the brain: the logical and the creative. This duality is apparent throughout the body of her work, starting with her photographic equipment. Alterwitz uses both digital cameras and toy cameras. The high-tech digital cameras produce clear, factual images that are believable and acceptable in our right-brained world. In contrast, images shot on film by the low-tech, simple workings of plastic cameras capture a spontaneous altered world. Alterwitz's inspiration, the inner workings of the human body and her external surrounding environment, plays with the dance of the two sides of the brain as well as the contradiction of fear and reassurance. Past personal struggles with medical issues were tempered by fond, childhood memories of playing in the sand dunes and forests of Gary, Indiana where Alterwitz grew up. It is this dichotomy that gives her work a comforting sense of familiarity while simultaneously creating tension.
"The photographs in the series Discarded Dreams explore the human connection to the world in which we live. I work with two distinctly different sets of visual information: medical imagery and landscape. What is presented in the medical imaging allows us to see what lies beneath the surface. In contrast, photographic images of landscape provide a different type of information: that which is familiar, identifiable and exposed at the surface.
These photographs represent my interpretation of blending these two types of information. These dualistic thought processes, created by the right and the left sides of our brains, (our creative and logical minds) reside together. I believe that it is within this arena where great ideas originate, ones that can lead to unlimited possibilities.
Through the work featured in the portfolio "Discarded Dreams" I use symbolism and metaphor to reveal this dichotomy (that which is seen on the surface in contrast to that which is hidden). I attempt to portray a visually altered world, leaving the viewer filled equally with awe, strength and vulnerability."
—Linda Alterwitz, 2011
Linda Alterwitz has exhibited her work throughout the United States and also in Tokyo, Japan and San Sebastian, Spain. Recent group exhibitions including Project Basho's "Onward'11" (Philidelphia, PA), NYU (New York, NY), The Pen and Brush Gallery (New York, NY), Rogue Space Chelsea (New York, NY) 1212 Gallery (Richmond, VA), Newspace Center for Photoraphy (Portland, OR) Texas Photographic Society, (San Antonio, TX) SilverEye Center for Photography, (Pittsburg, PA) Photoplace Gallery, (Middlebury, VT), and The Julia Dean Photo Workshop Gallery, (Venice, CA) among other national and international juried competitions.
This site and its entire contents © 2004-2011 Los Angeles Center For Digital Art
All Rights Reserved.
Works of individual artists remain the intellectual property and are copyrighted by their respective authors. No unauthorized reproduction, all rights reserved.