Michael Levin
June 8-July 1, 2006
Reception Thursday June 8, 7-9pm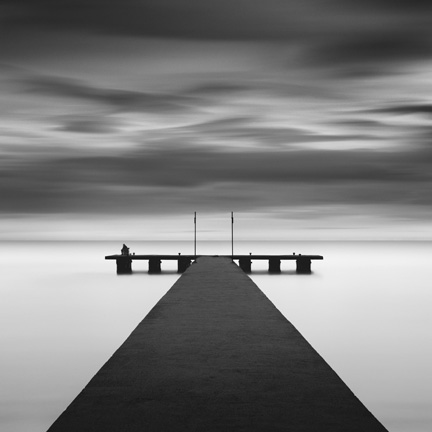 Michael Levin presents an exquisite series of Seascape photographs. Each were masterfully captured on 4x5 black and white film and the negatives were then scanned and manipulated in the "digital darkroom." The end result are images at once fantastic and realistic that exhibit an expansive and placid beauty. Levin states that "this digital technology allows me much more creative and precise control over how the final image is presented. These photographs could never be achieved in the traditional darkroom."
Artists Statement:

"While I was born land-locked under a vast Prairie sky in Winnipeg, Canada, it wasn't until I moved out to Vancouver that I became engaged with the potential for landscape photography. Perhaps it was simply my need to better understand my new surroundings – water, water, everywhere – that provoked my deeper interest in the way landscape can shape photographic reality. Whatever the reason, my creative imagination opened up at this time as I began to explore the many hidden treasures of the Pacific Northwest – even those more plainly in sight. Since this time, I've begun to range more widely, both geographically and in my subject matter, my curiousity remains for visuals that are obvious and yet elusive, as clear and transforming as water."
"To some, my work has a very painterly quality, the long exposures reducing the landscape to elemental shapes, so that each image is simple and pure but essential. While many of my photographs feature water and clouds, the smooth skin of light, it is the architectural intrusions into these clean spaces that now most engages me. Wood posts, concrete barriers, weathered rocks, even the elegant shape of French topiaries allow me to approach the canvases of my pictures with as much of a draftman's pencil as a photographer's eye."