KATHRYN JACOBI:
DIGITAL HYBRIDS
April 12-May 5, 2007
Reception Thursday April 12, 7-9pm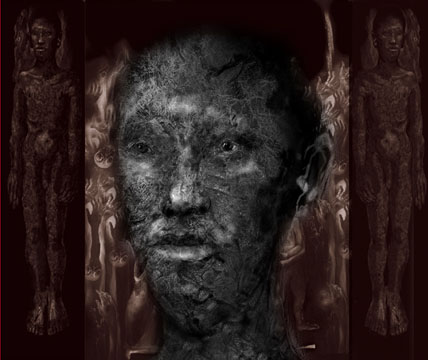 Reimagining Perception:
The Human Condition in a Dangerous World
Painter and photographer Kathryn Jacobi presents a new body of fully integrated drawn, painted, and photographic images she calls 'Digital Hybrids.' 'Hybrids' are images drawn directly on the computer screen combined with images from her own paintings and photographs. They aspire to achieve an aesthetic integrity and complexity that would be almost impossible to accomplish in either medium alone, and to successfully marry fine art and technology.

Painting is in part, by definition, artifice. In digital photography everything is subject to change, reinterpretation, or is potentially deceptive. Yet, both media are also potentially immediate routes to authentic, unmediated feeling and emotion. Jacobi brings her new images, though created digitally, back into the realm of art by making them totally unreal and metaphoric rather than literal or photographic. The photographic elements are used only to make the artifice more involving. For instance, "Elephant" is composed largely of photographs of antique Mexican Santos which function more as surface articulation and emotional underpinning than as photography.

Whether painting, photographing, or creating hybrids that lie somewhere you have never been before, the themes remain consistent. Jacobi explores the nature of being alive, threatened by the complex realities of the external world and the urgent demands of our inner lives: the existential human condition in a dangerous world.
This site and its entire contents © 2007 Los Angeles Center For Digital Art
All Rights Reserved.
Works of individual artists remain the intellectual property and are copyrighted by their respective authors. No unauthorized reproduction, all rights reserved.