Martin Gantman
"Old Friends"
February 14-March 1, 2008
Reception Thursday, February 14, 7-9pm
"Sintra 11.7.2", Digital Print, 24"x36", 2002 (Image side)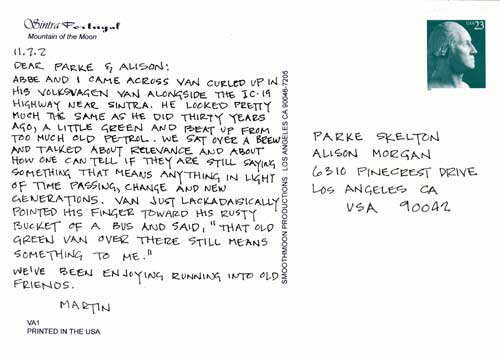 "Sintra 11.7.2", Digital Print, 24"x36", 2002 (Text side)

The Los Angeles Center for Digital Art is proud to present a solo exhibition by Martin Gantman presenting the first showing of his project Old Friends. Using as a starting point his virtual visits to various foreign cities, Gantman has created a series of post cards that portray the stories of unexpected meetings with friends during his international travels. The stories he creates are fictional as well, but Gantman assiduously researches the specifics of each location and uses that knowledge to lace the narratives with an aura of the place where they occur.
Each card begins with the photograph of a common object on its image side using objects that are called by a word that is also a common proper name. By means of this deceit Gantman interlaces the stories on the text side of the card, about his "running into his old friends," with sly references back to the photographed image. Thus the post card becomes a vehicle for commentary on the intangible nature of naming and language, as well as the notion of representation in general.
The original post cards having been mailed, the exhibition consists of large giclee reproductions showing both sides of the cards Gantman has created.

Martin Gantman is a Los Angeles based artist and writer who has exhibited internationally in such venues as the Alternative Museum in New York, A.R.C. Gallery in Chicago, HAUS Pasadena, POST Los Angeles, Artetica, Rome; and La Coruna, Spain. He is currently working on a multi-faceted undertaking entitled "Tracking Empire." His project, "See you when we get home." was featured in Art Journal magazine and his most recent project, "Atmospheric Resources Tracking Incorporated" was shown at the Seyhoun Gallery in West Hollywood earlier this year. Recent published writings include: "The Irresolute Potential in the Unimagined Possibility," "Swingin' in the Slammer," "The Word Was Charm," "DuSable Park: An archeology," "Notes on the Oddness of Things," and "Mapping the Lost Idea." He also co-edited "Benjamin's Blind Spot: Walter Benjamin and the Premature Death of Aura" for the Institute of Cultural Inquiry, published by DAP Publications in 2001.

His work is included in numerous contemporary collections, including the Peter Norton Foundation, the Marv and Judy Zeidler collection, the Michael Collins/Daniel Banchik collection, etc.

This site and its entire contents © 2006 Los Angeles Center For Digital Art
All Rights Reserved.
Works of individual artists remain the intellectual property and are copyrighted by their respective authors. No unauthorized reproduction, all rights reserved.