Chris Anthony
"RED WHITE BLACK AND BLUE"
February 10-March 4
Reception Thursday February 10 7-9pm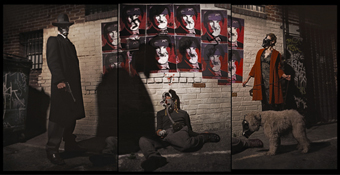 Chris Anthony's series of incisive and witty photographs, titled RED WHITE BLACK AND BLUE, is hard hitting art born out of disgust towards the Bush Administration's policy of spin, dodge, and divert. The photographs document in black and white the straight jacketing of civil rights by an Administration whose aim is more Machiavellian than moral.
His collection of gas masked "noir" caricatures posed against a tattered old glory serve as metaphors for oppression and make a keen reaction against tyranny and its step-sister, hypocrisy in all of its forms. Steeped in dark humor, the sinister and blaring images make us see ourselves as the rest of the world sees us, and evoke thoughts about the thin line between moral imperatives and invasion politics.