Analog to Digital
July 9-September 2, 2011
Reception: Saturday, July 9 7-10PM

Curated by: Rex Bruce

John Baldessari, Gronk, Patti Heid, Dennis Hopper, Kathryn Jacobi, Luke Matjas, Miss Maytag Collective, Mark Mothersbaugh, Federico Solmi, Anneliese Varaldiev, Robert Williams, Joel-Peter Witkin
Curators Statement:
New media is not-so-new at all really, I see more kindred relationships between forms than not, historically and otherwise. I embarked on an exploration of that notion by curating an exhibit which contains analog and digital works together and traces these relationships. Although the differentiation between digital and other forms is largely artificial, the perception of difference and change with emergent technologies and the culture surrounding them is very strong. The thoughtful examination of connections as opposed to differences of these forms as a focus within an exhibition illuminates important currents in contemporary artistic practice.
There is a long history of exhibiting art created with computers, the following being the earlier of some of these shows: Cybernetic Serendipity curated by Jasia Reichardt for the ICA and The Machine as Seen at the End of the Mechanical Age curated by K.G. Pontus Hulten for MOMA were both on view in 1968. Jack Burnham curated Software, Information Technology: Its Meaning for Art for the Jewish Museum in 1970 the same year that Maurice Tuchman organized Art and Technology for LACMA. This succession of exhibits occurred about 20 years after computers, as we know them, were introduced. The practice in these exhibits was to present this work as a separate cultural entity from the rest of art. This continues in many instances to this day, often in broad exhibitions of "digital" or "new media," where belonging to this category is enough to substantiate inclusion in an exhibit.
It is possible that what we are learning now are the wide range of connections that the cultural opus "art and technology" has to the whole of art history. Conversely, that media considered "not-so-new" can be related to "new media" more than we may have previously observed. I sense this becoming a current in how this medium is regarded, and this exhibit, amongst many other things, became for myself an exploration of this direction of thought. In a more radical vision, there may come a day when these disparate kinds of works are commonly collected, archived and exhibited together side by side, where the discoveries of a more integrated historical view and the value it brings to art utilizing emergent technology have the opportunity to surprise and inform us in truly new ways.
"...a creative lull occurs always when artists of a period are satisfied to pick up a predecessor's work where he dropped it and attempt to continue what he was doing. When on the other hand you pick up something from an earlier period and adapt it to your own work an approach can be creative. The result is not new; but it is new insomuch as it is a different approach."

Marcel Duchamp, 1946
(the year ENIAC, the first computer built, was completed)


Curator's notes on artists: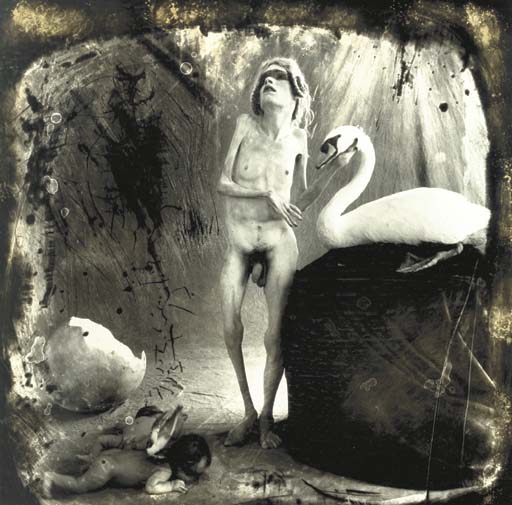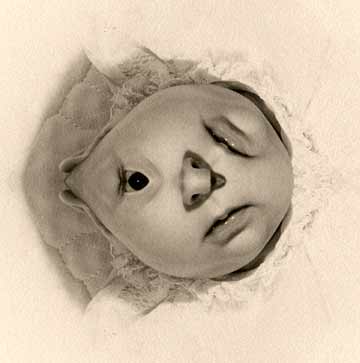 Joel-Peter Witkin's tableaux photos make a post-modern appropriation from historic periods and deliver high levels of human freakishness as the classic images are reposed and distressed in the darkroom by the photographer as demonstrated in "Leda" (collection of Rex Bruce) — Witkin's version of "Leda and the Swan" by William Butler Yeats. In Mark Mothersbaugh's "Beautiful Mutants" (LACDA artist) the historic lifts are scans of more anonymous 19th century daguerreotype portraits that are reprocessed by use of computer commands in the digital darkroom. In both cases you have a "dead" subject staring back into the gaze of the viewer as filtered and mutated by the strategies induced by the respective artists.
It is not well known that in John Baldessari's (courtesy of El Nopal Press) more recent editions computer assistance has been used in the creation of the mechanicals required to realize the final lithographic prints. In past collaborations with master printmaker Francesco Siqueiros, the artist gave specifications in a series of documents whereby the printmaker assembled the various visual elements and executed the knockouts and other required materials to fabricate the plates used in the final printing. The diptych on display for this exhibit is an excellent example of the newer process, which in the end used 17 separate color plates for its production. In comparison to "Object with Flaw" (1988), the newer work gives the artist what Siqueiros called "capricious precision" which allows the artist to be more exacting in the creation of analog prints by using digital assistance. This in turn allows for more elaborate form and what could be thought of as a more exacting articulation of the ideas expressed in the artworks.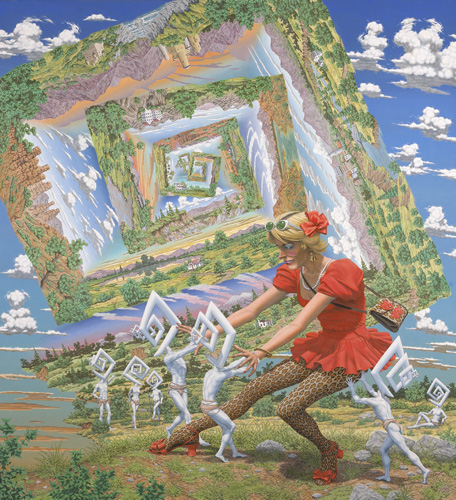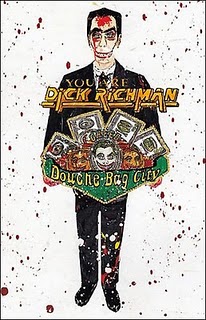 Robert Williams (courtesy of David Lawrence Gallery) and Federico Solmi (courtesy Luis de Jesus Gallery) have strong relationships where Solmi's video works are informed by more recent developments with games and other computer media and Williams is informed by cartoons, sex, surf style and custom cars of an earlier time. Both have elements of illustrated pop culture, irreverence, religious references and monstrosity but relating to the media technologies of two adjacent eras; what could be construed as pre- and post- digital.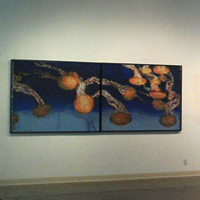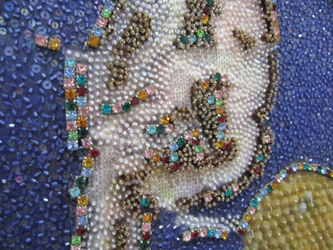 Patti Heid's (LACDA artist) works discover the place where contemporary technology, paint and antique craft make a sparkling collision along with an ironic nod to the traditionally feminine work of sewing and beading. She combines digitally composed imagery with areas of acrylic airbrush as well as beads, sequins, semi-precious stones and gold bullion hand sewn over large-scale archival canvas prints. The mural sized works have the historical look of European tapestry with astonishing handiwork in great detail.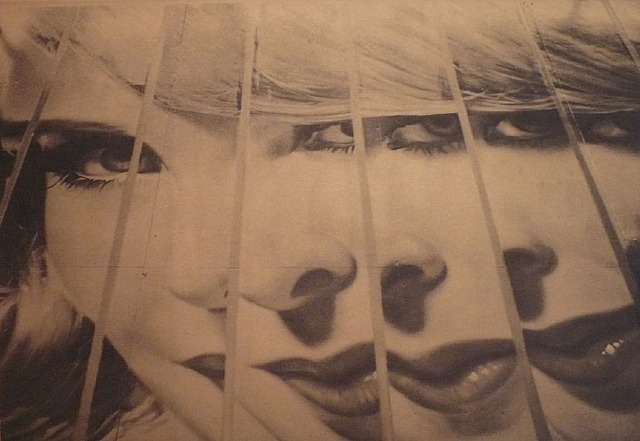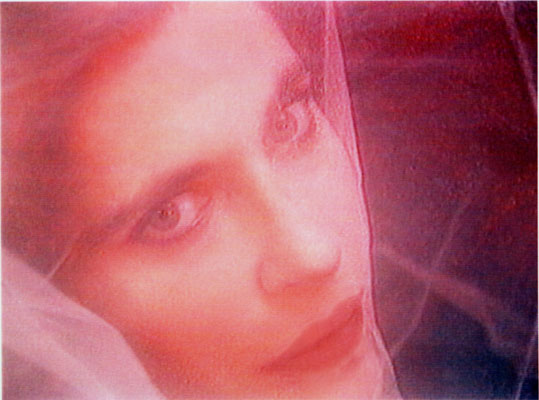 Dennis Hopper (courtesy David Lawrence Gallery) and Anneliese Varaldiev (LACDA artist) both explore iconic images of women in the works for this exhibit. In Anneliese Varaldiev's work multiple generations of an image of her face are re-dubbed, re-photograped and reproduced through a variety of means, where the degenerative marks of replication are fore-grounded. A reverse in direction is taken when the image is printed in large dimensions at a high resolution, and mounted to slick perfection on plexiglas. Her self-portrait and identity travel a similar journey where her countenance is transformed into a glamorous femme fatale using make-up, lighting and poses harkening back to the golden era of movie making. Dennis Hopper's "Fractured Girl (Billboard Factory)" takes parallel reverberating journeys where image and identity travel through the variegated strata of media types contemporary to that time, where fracturing of the image, and dissipation of identity coexist with a real desire for physical beauty driven by notions of glamour and fashion.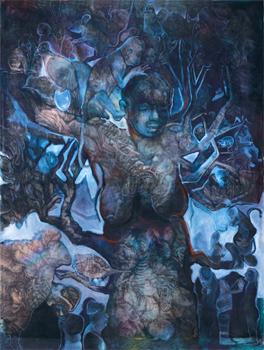 Kathryn Jacobi (LACDA artist) scans her paintings, digitally recombines elements and once again paints on prints of these images. To make hybrid forms using paint or other earlier technologies deemed analog is where a lot of new aesthetic territory is going to be generated. It is not so much a matter if it is "digital" or "not digital" but rather if it is a thoughtful use of digital technology in relation to anything, or just a warmed over version of something that preceded these technologies that utilizes computers in its realization. In Jacobi's work "is it well informed or not?" is a more important consideration.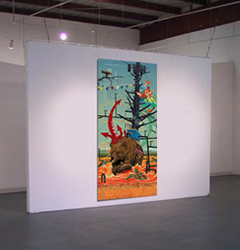 Luke Matjas (LACDA artist) is an artist who incorporates multiple analog processes to eventually produce a digital image. His work constitutes a reversal on the idea that artists who deal with scientific themes (in his case a dystopic biological realm) eschew traditional methods in their creations. Painstakingly hand drawn detail is combined with vector graphics to realize the final wide format output.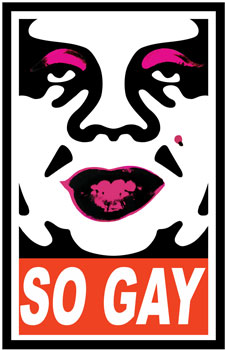 Miss Maytag Collective (LACDA artists), a loose aggregation of gay men and their best girlfriends, takes a topical jab at the ever so "boy thing" street-art scene. They use the method of a Situationist détournement as a queer intervention on the all too famliar "Obey" poster. Lady Kenmore of the collective states "every time I go to a Shepard Fairey opening I feel like I'm at a straight pick-up bar—where are all of the drag queens?" Moving from wheat paste to Photoshop, the makeover of political graphics allowed by digital image editing brings much delight in the work "So Gay." It indicates one more aspect of digital media's capability to easily contribute to social and political discourse as it puts a varied expression into the hands of the many.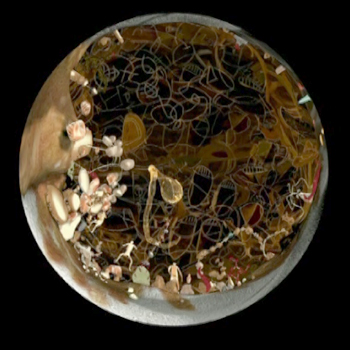 Gronk (courtesy of the artist) makes the transit from analog to digital in his piece "Brain Flame," a video incorporating forms from his paintings, 3D animations and an electronic soundtrack. Here we see Ua smooth transition where one media dovetails into the other sharing in form and idea. The examples of the three paintings by the artist incuded the exhibit illustrate this point clearly. But, the use of digital technologies in "Brain Flame" allow for an interdisciplinary approach painting alone can't accomodate. As well, the video has a digital look not visible in the paintings. It is evident that the artist was attracted to the digital realm and through this work successfully crossed into it while retaining all of his highly masterful style.
This site and its entire contents © 2004-2011 Los Angeles Center For Digital Art
All Rights Reserved.
Works of individual artists remain the intellectual property and are copyrighted by their respective authors. No unauthorized reproduction, all rights reserved.