2010 DigitalArt.LA International Expo Highlights


September 9, 12noon-9pm
Reception: September 9, 2010 7-9pm
in conjunction with the Downtown Art Walk
'Destricted'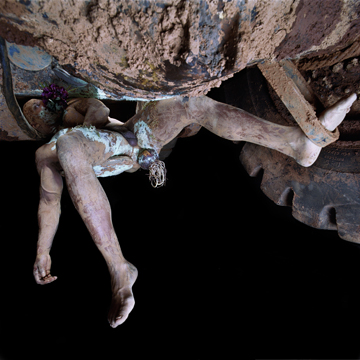 Matthew Barney, still image from 'Hoist'
The collection of experimental shorts "Destricted" will be screening September 9 as part of the DigitalArt.LA Expo. 'Destricted' is the first of its kind, exploring the intersection of sex and art in a series of films created by some of the world's most preeminent and provocative artists and directors. Explicit in content they reveal the diverse attitudes by which we represent ourselves sexually.
Artists include:
Matthew Barney
Richard Prince
Larry Clark
Marina Ambromavic
Marco Brambilla
Gaspar Noe
California Museum of Photography
Escape to Reality:
24 hrs @ 24 fps
Sixty photographers, 24 hours and Joshua Tree National Park. The result: a media event capturing the epic scale and soul of one of Southern California's most imaginative regions. This "visual and literary meditation" combines images taken of Joshua Tree National Park, music and a narrative poem written by Ruth Nolan. Taking inspiration from English photographer Eadweard Muybridge's important work in motion study, many of the images taken represent sequential movements and the passages of time, rather than isolated still-life compositions. The result is an amazing display of terrestrial video, rendered in a drop-frame style. 24hrs @ 24fps over Joshua Tree is a part of UCR ARTSblock's Photographic Excursions Series.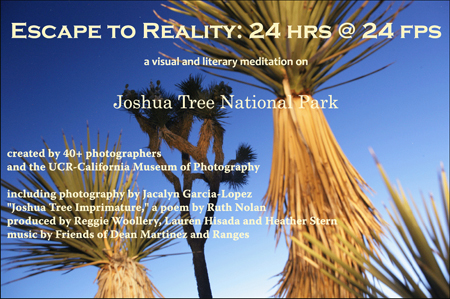 Photographers featured here are: Ami Flori, Carlos Puma, MiKenzie Denholtz, Maxene Denholtz, Mike Denholtz, Brenda Denholtz, Myles Denholtz, Darrin Dikes, Jose Beruvides, Laura Araujo-Salinas, Paul Gachot, Alma Lopez, Reggie Woolery, Rex Bruce, Douglas Buckley, Julia Buckley, Carlos Garcia, Corinne Cardenas, Sergio Pina, Melanie Berry, Elda Carraco, C.R. Steyck III, Ralph Carraco, Yareli Figueroa, Andy Chi, Brian Leatart, Jim Belsley, Grace Bagwell, Geoff Shaw, Vicki Williams, Joanne Lehmer, Jacalyn Lopez Garcia, Geno Lopez, Pat May, Rita Medina, Breeane Diaz, Barbara May, Eva Soltes, Brad Shyba, Jason Marquez, Ethan Turpin, Margaret Burnett, Sarah Bay Williams, and Bruce Miller.
Dance Camera West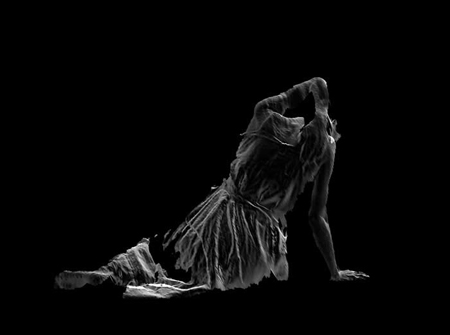 "Body/Traces" by Lisa Parra and Sophie Kahn

"Body/Traces" is a fascinating media installation that examines the body by reducing it to lines through the interaction of three-dimensional media, movement, sound and the environment. The tranquil piece about perception presents an interesting juxtaposition as it exerts itself within the context of the legendary art walk masses.
Los Angeles Center for Digital Art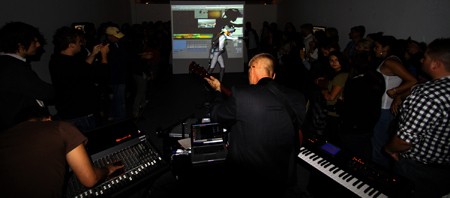 Tiffany Trenda, SigAlert, and Victor Acedevo: performance collaboration.

LACDA will present a dynamic performance collaboration including Tiffany Trenda, video by Victor Acedevo, and experimental electronic music by SigAlert (Rex Bruce, Neil Kohanski and Alex Cole) that explores electro-communicative overkill, L.A. style. Prior performances by this exceptional group have caused a sensation in the Downtown art scene.
LACDA is hosting an international new media exhibit of juried submissions including over 30 artists selected by noted Los Angeles critic and curator Peter Frank of the Riverside Art Museum, which will also be the site of the DigitalArt.LA reception from 7-9pm.


Edward Johnston, Data Based Sculpture


The Downtown Film Festival and LACDA are hosting an invitational exhibit in the extravagant lobby of the Rosslyn hotel that adjoins the gallery including works from the following organizations:
iotaCenter · UCR ARTSblock | California Museum of Photography · Dance Camera West · Downtown Film Festival - Los Angeles · Orange County Center for Contemporary Art · Vortex Immersion Media · The Museum of Hyperreal Art (MOHA)
Fifth Street Galleries will be presenting digital work as part of the days exhibits including:
CB1 Gallery · Pop-Lock Gallery · El Nopal Press Gallery · Edgar Varela Fine Art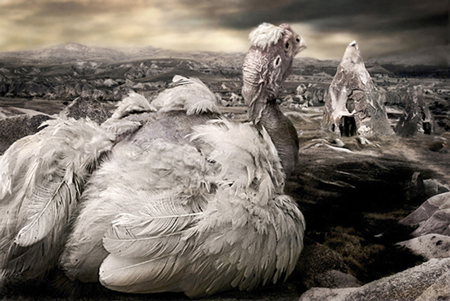 Pat Swain, Digital Image
This site and its entire contents © 2004-2009 Los Angeles Center For Digital Art
All Rights Reserved.
Works of individual artists remain the intellectual property and are copyrighted by their respective authors. No unauthorized reproduction, all rights reserved.